Stan Van Gundy isn't used to ending his NBA season after only 82 games. He's also used to going on vacation soon after his season ends. However, Van Gundy now has other offseason responsibilities due to his status as the Pistons' President of Basketball Operations. He fulfilled some of them when he traded Caron Butler and Shawne Williams to the Milwaukee Bucks for Ersan Ilyasova.
This won't be the final decision Van Gundy has to make this summer. On June 25, he'll have to decide what to do with the Pistons' No. 8 and 38 draft picks in the 2015 NBA Draft. Just days later, the NBA Free Agency period will open on July 1. And only three days after that, Van Gundy's draft picks and other young Pistons (and Pistons hopefuls) will take part in the Orlando Summer League, which begins play July 4.
So how does trading for Ilyasova guide what the Pistons may do at each of these junctures?
2015 NBA Draft
The NBA Draft, where anything can happen. Where a player who is reported to be dropping down the draft can end up being drafted first overall. Where teams can (or could) spin draft day trades for high schoolers who end up winning multiple NBA championships. And by looking at the numerous mock drafts online (some that are updated weekly), you can surely see why.
Sports Illustrated published on June 10 that the Pistons were going to draft guard Devin Booker out of Kentucky. NBADraft.net published on June 3 that the Pistons were going to draft power forward Trey Lyles ... out of Kentucky. Yahoo and DraftExpress published, also on June 10, that the Pistons were going to draft small forward Mario Hezonja out of Barcelona. CBS Sports published, also on June 10, that the Pistons were going to draft power forward Kristaps Porzingis out of Latvia. Lastly, and much to my pleasure, SB Nation published on June 11 that the Pistons were going to draft small forward Stanley Johnson out of Arizona University.
That is six different mock drafts, five different players, three different positions.
But all of those were done before the Pistons traded for Ilyasova. Lyles and Porzingas were likely picks because of potential and the fact that Greg Monroe is very likely to not be a Piston next year. By getting Ilyasova, it may not be worth risking the 8th pick on a power forward, one who is not likely to start or get much playing time. Ilyasova is not likely to be the Pistons starter at PF for all 82 games, nor is Anthony Tolliver or Quincy Miller. But all of them would likely be better starting options over Lyles or Porzingas.
With Reggie Jackson, a healthy Brandon Jennings, and Spencer Dinwiddie, the point guard position is shored up. Kentavious Caldwell-Pope showed some development last year. Jodie Meeks is hopeful to have a bounce back year. Oh, and Cartier Martin is still on the team. So I'm not sure that the Pistons would want to spend their 8th pick on a shooting guard. As for the center position, 30-plus minutes is already tied up in Andre Drummond. Assuming Joel Anthony is retained, the backup center position is likely shored up as well.
In the trade, the Pistons sent two of their five players who could potentially play minutes at small forward. The three left are KCP, Martin, and Miller. There is a gaping hole at small forward. I think it wise that the Pistons will look specifically at either Stanley Johnson or Mario Hezonja, or any other small forward. Just ask Keith Langlois.
Drafting a SF was always likeliest for #Pistons due to way draft falls. Odds sure didn't go down by trade for Ilyasova.

— Keith Langlois (@Keith_Langlois) June 11, 2015
Only guys on roster now capable of regular SF minutes are Cartier Martin, Quincy Miller. Neither a realistic option to start. So ..

— Keith Langlois (@Keith_Langlois) June 11, 2015
But there is one thing that sold me on Johnson that may (or may not) put too much pressure on him.
"Nothing came easy. I didn't walk into Arizona looking at a starting position," he said. "I don't want to walk in the NBA looking for a starting position. I want to work for everything. Anything that's given to you can be counterfeit, so I want to work for anything I get."
2015 Free Agency
Free agency is used to shore up any spots that weren't solved by the draft and allow teams to perform more trades. Assuming the Pistons extend Jackson, fully guarantee Tolliver's contract, and re-sign Joel Anthony, there is not much the Pistons need to shop for other than a small forward.
Not only likely that #Pistons draft a SF at No. 8, but also that they spend bulk of remaining FA $ on a small forward, too

— Keith Langlois (@Keith_Langlois) June 11, 2015
Now, had the Pistons not traded for Ilyasova, they would have likely had to split their available free agent money between a quality small forward and/or power forward, depending on how the draft played out and Monroe's free agency. Ilyasova allows the Pistons to concentrate on only one position.
Ilyasova does change the available cap the Pistons have though. He is on the books for $7.9-million for 2015-16. Butler was on the books for $4.5-million and Williams for nothing. Simple math would say that Ilyasova eats $3.4-million dollars out of the previously expected available cap space. That is not entirely true. He potentially saves the Pistons a few million dollars. With or without Butler's option being picked up by the Pistons, they would have likely had to (assuming Monroe is as good as gone) signed a starting caliber power forward. That would have been at the very least $8-million. That is a conservative estimate considering the cap is about to explode. Teams are going to be willing to go a little above the average and for longer years knowing what is about to happen to the cap.
Ilyasova comes to the Pistons with two years left on his contract and he is only 28 years old. The second year of his contract is only $400,000 guaranteed. If his injuries continue or he does not fit the system as Van Gundy sees him to, then he can easily be let go or traded the same year the cap explodes.
So, how much do the Pistons have? Well, look at this graphic.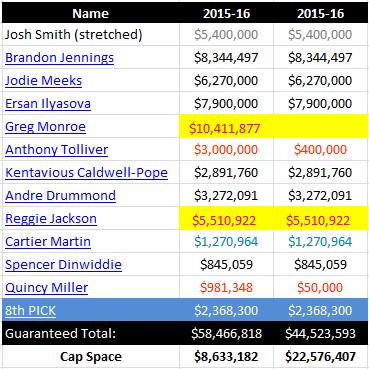 (H/T to Hypnowheel)
It is unlikely that the Pistons are going to sign Jackson out of the gate. It does not benefit them at all to do so. It is very likely that Monroe could be gone within the first few days of free agency or the Pistons renounce their rights to him. So until Monroe is no longer fated to be a Piston for certain, the Pistons have about $8 million to work with. That can bag you a decent player. However, once Monroe is for sure gone, the Pistons will have max money available.
Let's do a little speculation. Monroe is gone (this saddens me). Jackson will sign a new deal at some point (don't know how I feel about it). The Pistons do NOT sign their second round pick (again, speculation). Tolliver and Miller are fully guaranteed. Now the Pistons have 11 players and $19 million dollars to sign a starting caliber small forward and other fillers (presumably before signing Jackson). Even if Anthony was re-signed for a year or two at $4-million a year, they would still have $15 million to spend. Trading for Ilyasova helped their cap situation.
2015 Orlando Summer League
Ilyasova will not be taking part in the 2015 Orlando Summer League, but he does affect what the Pistons have to concentrate on. The only players currently on the Pistons roster that are guaranteed to be at the Orlando Summer League are Dinwiddie and Miller. With Jackson and Jennings on the team, there is not likely going to be an emphasis to push Dinwiddie. They may, but it may not be necessary. With Ilyasova and Tolliver, the same goes for Miller. Therefore, the concentration of Summer League may be on whichever small forward the Pistons draft and/or sign in free agency. KCP may take part in Summer League if he wishes, but it is doubtful. Heck, even Drummond is still eligible to participate.
Summary
I doubt that Van Gundy is done. Van Gundy seems like a guy who could spin off a trade at any time. With this trade, Van Gundy essentially put a large saying "Help Wanted: Full Time Small Forward."